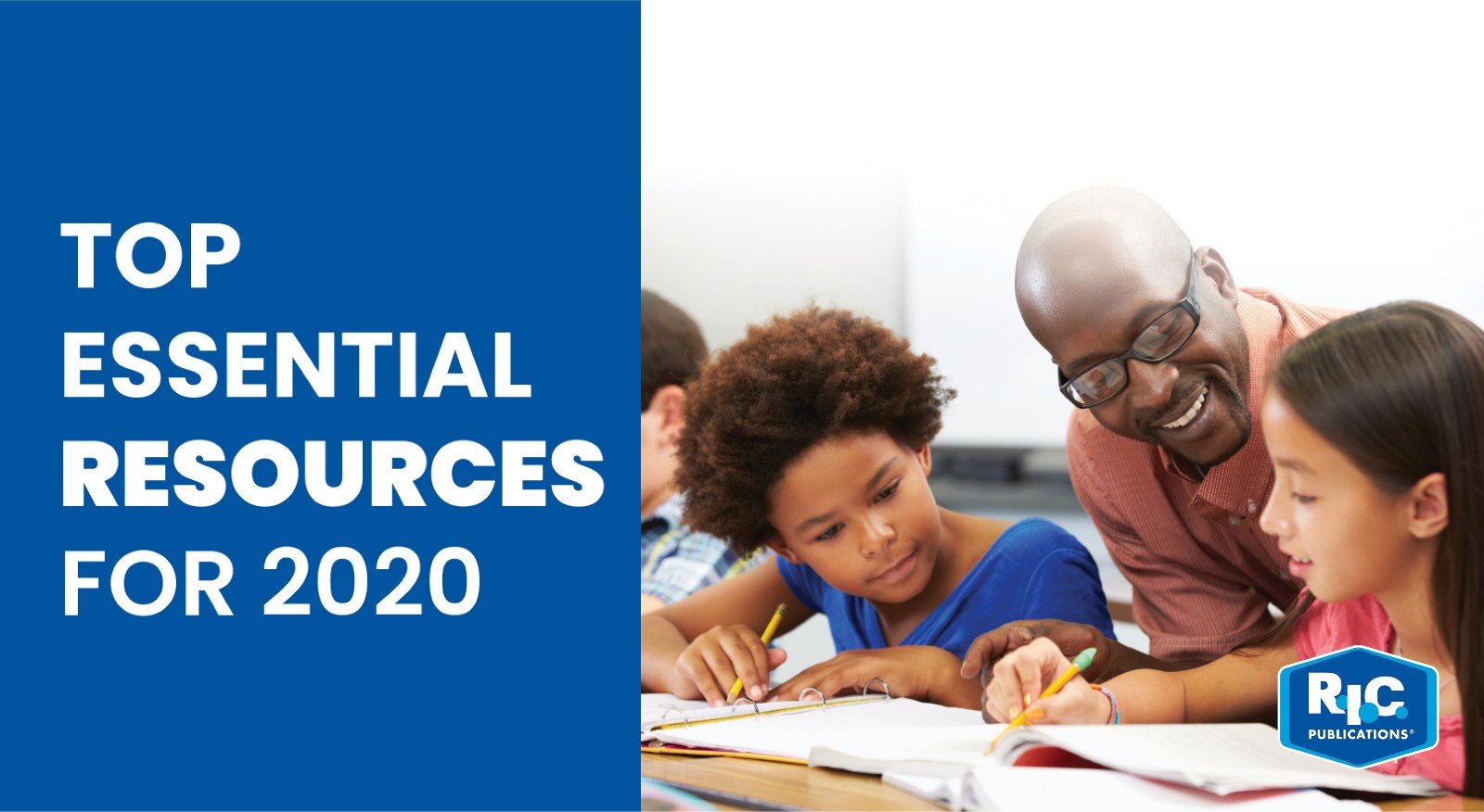 Top 10 essential books for 2020
Ensure effective learning with our resources.
2020 is "The Year of Functional Schools" and R.I.C. Publications has put together a top 10 essential resources list to ensure effective learning with the use of our resources:
1. New Wave Mental Maths
New wave mental maths workbooks are the complete mental mathematics resource. Make mental maths practice the highlight of every day with New wave mental maths! The perfect tool to consolidate and reinforce student learning, this fantastic series has been comprehensively revised to take into account the requirements of the Curriculum. With fun and colourfully illustrated daily questions to complete as well as dedicated problem-solving questions for Monday to Thursday, this resource is the ideal platform for the development of mental skills and mathematical concepts.
Find out more: series/new-wave-mental-maths/
2. Comprehension Strategies
Teaching comprehension strategies is designed to methodically and creatively teach students the skills and strategies needed for effective comprehension. These strategies have been defined as understanding words, finding information, identifying the main idea, sequencing, comparing, predicting, concluding, summarising, inferring, cause and effect, fact or opinion and point of view.
Find out more: series/teaching-comprehension-strategies/
3. STEM Boxes - Science, Technology, Engineering, Maths
STEM education is key in creating the next generation of critical thinkers, science-literate students and inspired innovators! Our STEM series is focused on developing important skills such as innovation, creativity, reasoning and problem-solving. Get your students prepared for the new information-based society and be confident in delivering a comprehensive and contemporary science program!
Find out more: series/stem/
4. New Wave Spelling
New wave spelling – A phonics-based approach is a whole-school spelling workbook series. The spelling lists within each unit are organised with a phonetic emphasis. Each workbook is supported by a comprehensive teacher resource book containing support material to enhance the teaching and learning opportunities provided in its corresponding workbook.
Find out more: series/new-wave-spelling/
5. Sounds in Focus
Sounds in Focus is a whole-school spelling and language programme from Junior Infants to 6th Class. Use Sounds in Focus at each class level, to develop language proficiency by continually developing: spelling skills, vocabulary, grammar concepts, writing.
Find out more: series/sounds-in-focus/
6. English and Afrikaans Desktop Dictionary
My Desktop Dictionary is designed, written and illustrated for young children in their first years of learning. It is a student dictionary for children who are developing a written vocabulary and contains a wide range of commonly used words. Ample space is provided for recording new words that students may add to the dictionary.
Find out more: English: shop/my-desktop-dictionary-ages-5-8/
Afrikaans: shop/my-desktop-woordeboek-ages-5-8/
7. Awesome Art
Let your class discover and explore their creative ability through the amazing projects contained in Awesome Art and Craft. Featuring stunning, full-colour photography and an innovative design, plus differentiation suggestions for different ages and abilities, this series provides opportunities for children to develop skills in cutting, colouring, painting, sculpting, experimenting and inventing.
Find out more: shop/awesome-art-and-craft-ages-6-7/
8. Bullying
These posters are guaranteed to stimulate worthwhile discussion on this highly topical problem. The text has been carefully chosen to promote open-ended solutions, encouraging the students to provide meaningful answers. Take a look at the Cyber Bullying books. This invaluable resource is ideal for extended classroom use and priced attractively to allow schools to purchase multiple sets for all classes.
Find out more: shop/bullying-in-a-cyber-world-posters-ages-8-15/
9. Primary Comprehension
Full of funny, suspenseful, horrifying and exciting texts, Primary comprehension is an educational adventure students won't want to end! With a wide array of literal, inferential and applied comprehension questions, this series is essential for every teacher's collection.
Find out more: series/primary-comprehension/
10. Grammar Minutes
One hundred minutes to better grammar! Grammar minutes provides the opportunity to let students practise their grammar skills and enhance their overall grammar proficiency across a variety of areas, including sentence structure, use of capital letters and punctuation, and understanding of common nouns, proper nouns, pronouns, verbs, adjectives, synonyms, antonyms … and many more elements of language.
Find out more: shop/grammar-minutes-100-minutes-to-practice-and-reinforce-essential-skills-book-g-ages-10-12/
Contact us today for any of these resources.